Public Eye is a collaborative art project. In this project, a recording device will be constructed to contiguously capture audio, video, and weather data in vast landscapes with complex geo- and socio-political histories. The device will record from one geographical site for an entire year. All captured material will be made available for invited artists of any media to create their artworks from, yet relating to the thematic content and involving strategies of durational time, to open its location to the public by sharing its presence and observations.
While hearing is omnidirectional, a gaze is directional. Living species continually record their surroundings. Being in a landscape, a perceiver scans for qualities, for opportunities. 'Landscape' means to create, shape or form land. A gaze is a charged space: a space for sharing, for encounters, for the execution of power and surveillance. Landscape geographer Kenneth R. Olwig says that "[t]he land is bound by custom, but the land also binds the memory". Whereabouts shape the perspective, exceeding a human gaze, affecting understanding, in turn influencing new knowledge.
The global political challenges of the Anthropocene confront us partly because of how they exceed our perception in a similar manner: Climate changes, the pandemic or social and economic effects of algorithms or propaganda are difficult to observe. Their distribution in time and space makes them demanding to collectively grasp, share and deal with. Also, language as a tool inadvertently frames reasoning. The current geopolitical situation in February and March 2022, is a terrifying demonstr5ation of how current human dependency on nuclear energy and sustainable climate are inherently global questions that require global public spaces in which peaceful solutions can be negotiated. Also, language frames reasoning. A "desolate" landscape, for example, is not 'empty' merely by humans not being there. Common concepts used to get oriented in the world are useful.
What is a public space in today's globalized world? How do we constitute a common ground where we can negotiate political challenges?
The concept is to create a meaningful relation with a remote landscape – and to explore how such remote landscapes may be made subject to collective attention from a wider public.
Public Eye is a collaborative art project created by composer Knut Olaf Sunde. In addition to complex histories, the planned sites being selected for the recording device will be remote, vast spaces that from a human perspective are characterized by desolation. They provide some kind of scale, slowness, extended time, perhaps monotony or even boredom to a human perceiver – factors that may increase ability of awareness and presence. The extreme durational choice of recording for a period of one year could create a zone where new qualities emerge, "a special intensity of attention", as filmmaker Andrei Tarkovsky puts it.
Composer Knut Olaf Sunde will subsequently transform the captured material to a one-year durational soundscape and video installation with symbiotic extensions of live musical events informed by and taking place on symbolic dates connected to the geopolitical location of the recording device. This installation can be on show in several places at a time.
Sharing material
Parallel to this, Public Eye will facilitate a socio-geographical distribution of all captured audio and video material and weather data through inviting artists of any media through collaborative partners in several European countries to interpret and create their new artworks, in response to the thematic framework and engaging with time as material. Similarly, scholars are invited to present and react on the process and results and contribute to a discursive practice. Collaborators or festivals are invited to contribute to the facilitation of artistic exchange and presentation. By subjecting the material to collective use, shared spaces will emerge that might set social borders and energies in motion. Being able to watch, to hear and to perceive a variety of interpretations in an ecosystem of artistic presentations will, we hope, yield better understanding and a sense of common ground. 
When sharing the material, we would like:
collaborators to facilitate the use of the material for their invited artists' creative use
the material (any selection of it) to be used by the artist (of any media)
the artists to relate to the thematic framework
the artists to engage with time as a material
the collaborator to present artistic results in a public context
Pilot project
In 2021, a pilot project was conducted, resulting in a prototype for an installation, created in collaboration with Notam and Wilmers Instruments AS.
Locations
Sites of socio- and geopolitical histories, where something has been, or is at stake, form the base in this project.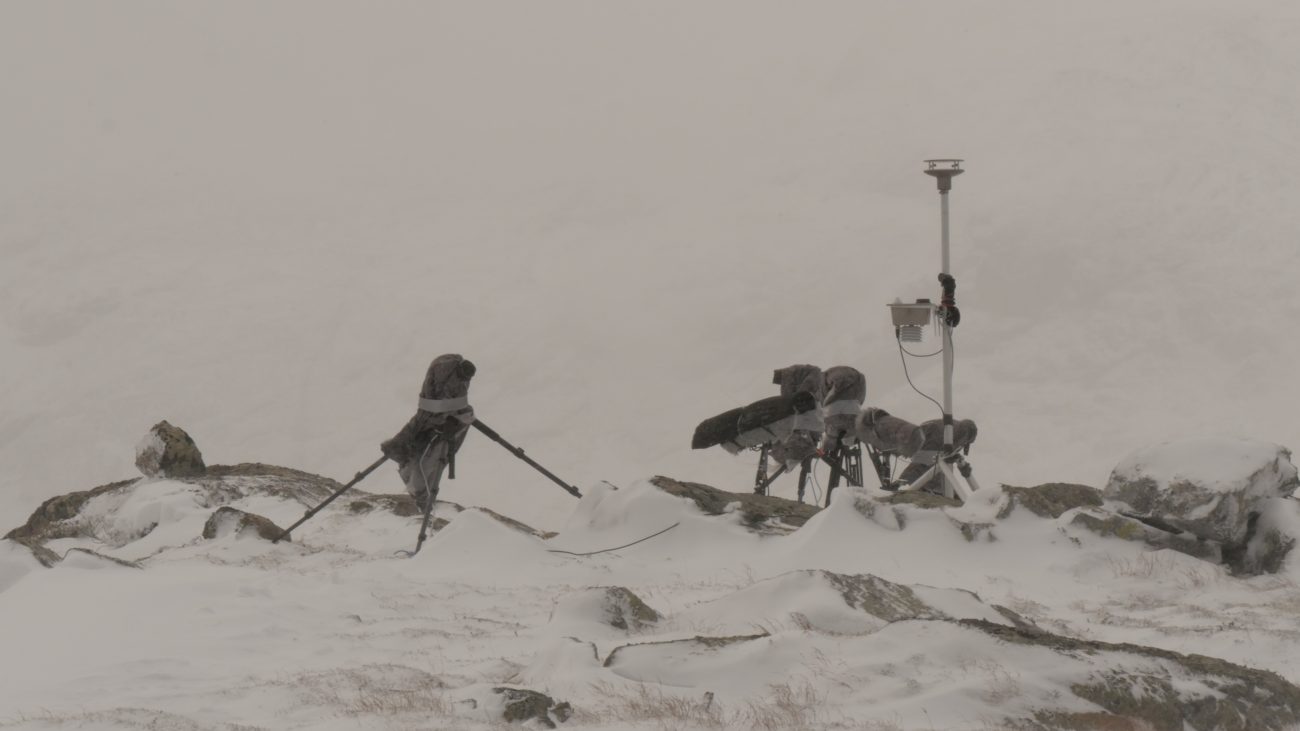 Public Eye I: Hopen
Hopen is a small isolated arctic island in the archipelago Svalbard, Norway. Located in the Barents Sea at 76,5° N, it hosts a meteorological station, staffed by four people. Hopen is covered by The Treaty of Svalbard from 1925, although stating full Norwegian sovereignty, also quite uniquely secures equal treatment, rights and duties of public and commercial interests for all signature countries and their peoples, as well as regulating demilitarization. Today, there are both Russian and Norwegian settlements at Svalbard, peacefully coexisting. At Hopen topography, wildlife and weather are the players; humans play a minor role, modestly observing, although overlooking a risk of future contamination of the ecosystem from about 18,000 radioactive units, including spent nuclear fuel, dumped in the Arctic Ocean from the 1960s to the 1980s, in particular along the coast of Novaya Zemlya. As an almost unreachable outpost in the arctic, far north of mainland Europe, Hopen is marked by its own extreme topographical logics and a rare geopolitical balance. 
The project is moved from Novaya Zemlya to Hopen because of the current geopolitical situation.
Distribution of the artistic result is to be decided.
Public Eye II proposal: Novaya Zemlya – Big Ivan
This proposal was formulated in 2020. The project is moved from Novaya Zemlya to Hopen because of the current geopolitical situation.
The arctic Russian archipelago Novaya Zemlya was a nuclear test site, where the hydrogen bomb nicknamed "Big Ivan" was detonated in 1961. That year, U.S. President Kennedy took office in January, in April the U.S.S.R. sent Yuri Gagarin as the first human in space, some days later Kennedy ordered the ill-fated Bay of Pigs invasion of Cuba, then in May announced so send a man to the Moon by the end of the decade, to turn public opinion. Tension of West Berlin access increased from June. In July chairman Khrushchev of the U.S.S.R gave three months to finalize a project on the biggest bomb in history, to "show the Americans what we can do." The tension of Germany increased with the construction of the Berlin Wall from August. Then, the "Big Ivan" bomb AN602 was dropped on 30 th October at Novaya Zemlya, to demonstrate the ability to extreme power. That event is thus a focal point to the tension of cultures, borders and security in Europe. What if it would be possible to capture a sensation of that vast landscape, and evoke an impression of the enormous forces revealed, its political repercussions and its potential consequences if used in an actual conflict?
Distribution of the artistic result is to be decided.
Basic timeline
2019-20 Idea and concept
2021-22 Pilot project
2022-23 Partners, funding, rig
2023-24 Public Eye 1
2024-25 Distribution 1 + Public Eye 2, potential for more
People and collaborators
Concept and idea: Knut Olaf Sunde, NO
Dramaturg for the sharing of material: Hild Borchgrevink, NO
Project manager/producer: Notam, NO
Collaborator: Patchlab, PL
Collaborator: Inter Arts Center, SE
More collaborators to be announced
Funding
Pilot project in part funded by Nordic Culture Point and sponsored by Wilmers Instruments AS and Amptec bvba.